Four presentations: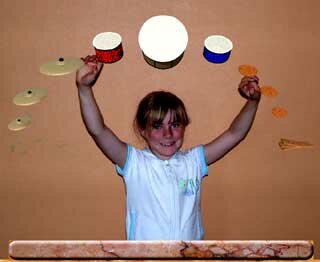 'Orchestra' - a random selection of different instruments are shown, chosen from a wide range. Wave over the instrument basket and you get a new selection from the range which includes percussion, brass, harp, bagpipes, didgeridoo, harmonica and lots more.
'Drumkit' - a range or percussion instruments including snare and bass drums, cymbals, even electrodrums so that you can play the theme of a well-known tv soap drama! Dum dum dum-dee-dum-dum-dum....
'Keyboard' - a 2 octave keyboard with a choice of voices - just wave a finger over the keys to play! Follow the moving dot to play a simple tune....
'Guitar' - saving the best for last, this one is for budding heavy metal guitarists. By strumming the guitar, you can either play a selection of guitar sounds, or play chords.
** Teacher warning - this one is very noisy!! **
Perfect for use with an interactive whiteboard..
Whilst Airsounds will work with a standard monitor, it looks best when used with a video projector as used with an interactive whiteboard. It's a bit like having an invisible whiteboard in mid-air!
If you have a sensory room, this program will be an essential addition.
Downloadable demo (3.1MB):
It's very difficult to describe this program, and so by clicking on this link you may download a demonstration version which will show you some of the instruments from the 'Orchestra' presentation. If your webcam is ready for use, you can be playing AirSounds in just a couple of minutes.
Full Download:
Step 1:
Click on the link above to download an Airsounds installer.
Step 2:
Open the zip file that you have received and run the Setup.exe file - there is a help file there to guide you. This will install a restricted version of Airsounds on your computer.
Step 3:
To unlock to the full version, you will need to purchase a registration code. When installed, the AirSounds program will have provided you with a unique order code number - enter this into the field above and click on the 'Unlock AirSounds' button here.
You will receive an unlock key code by email.
You can also purchase a CDROM version of AirSounds for £20.50